PR Accessories Pack
Modification does not require any DLC.
Description
PR Accessories Pack is an cabin accessories pack dedicated for PR map. These accessories are already in PR map, which means, that this pack is not required if you have PR map. This mod is meant to be only for people wanting to use models without having a map.
If you use PR 2.3+ version, then this mod is not required.
Content:
Pennants
Big pennants
Mugs
Hats
Flags
Each of models has 3 motives. PR Logo, Polish Emblem, and Fighting Poland motive.
Changelog:
[4.0] Added support for newest DAF 2021
[3.1] Fixed problem with black texture under models
[3.0] Added support for newest Renault T.
[2.0] Added support for newest MAN truck.
[1.0] Added cabin accessories.
Download
Reuploading our map on other download services and releasing it without permission is forbidden.
If you want to share map, keep the original links.

ETS2
Sharemods
PR Accessories Pack V4
(1,17 MB)
1.41.x and new
The latest package containing accessories in the latest version.
Download
PR Accessories Pack V3.1
(1,16 MB)
1.35.x – 1.40.x
Download
PR Accessories Pack V2
(1,14 MB)
1.34.x
Download
PR Accessories Pack V1
(1,14 MB)
Do 1.33.x
Download
Mods Order
Poland Rebuilding – Media
(For version 1.36 and older)
Poland Rebuilding – Models
Poland Rebuidling – Assets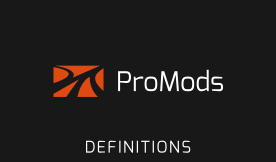 ProMods Definition Package